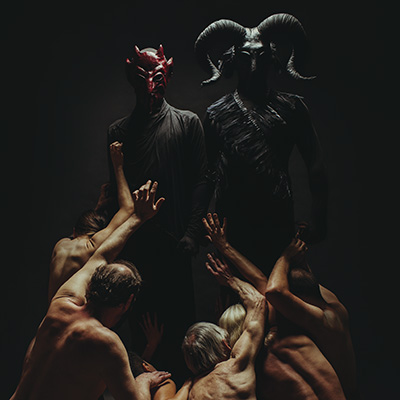 The French Shock-Metal masters are back, after a 15 year old career, with this upcoming 5th album, a new live line-up, and a new visual identity. HERRSCHAFT defines its own musical codes melting Electronica and Metal: a mixture from the sweat of a drunken Metalheads pit, and the intoxicating smoke of a Dark Electro cave full of night creatures, and bring it on scene with raw anger and unchallenged dynamics. The message of the band evolves at each new album, yet sticking to the guideline of investigating the hegemony and fall of a perverted humanity.
After exploring the cynicism of man in his most sordid experiments, the group now impersonates the vision of a gambling Satan, relishing the missteps and fails from his subjects, waging on their certain end.
HERRSCHAFT incarnates grotesque and decadence, in its music as well as on stage and this new album LE FESTIN DU LION is its worthy progeny.
HERRSCHAFT Current Line-Up :
Max : Voice, Electronica
Zoé : Guitars, Bass, Electronica, Producing
Liv : Live Drums
Dany : Live Bass
HERRSCHAFT Past members :
MzX : Voice (2004-2015)
Mat : Guitars (2004-2012)