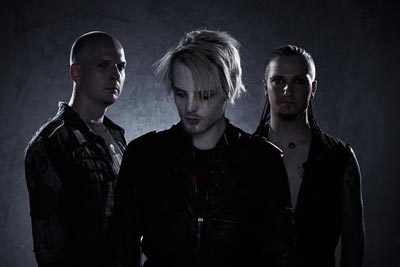 HERRSCHAFT was born at the end of year 2004 from the eager of its four members to melt their passion for extreme Metal and Electro/Indus genres on a single experiment. Their first effort, called "Architects of the Humanicide" (Aural Music/Code666), conceptualized the Electro/Metal music by exploring mankind's perdition, creating a world from the opposed bright and dark sides of a synthetic future.
Two years later their full LP "Tesla" brought forward the concept, describing a humanity bound to fall and destruction due to its own selfishness. It also showed the maturity of HERRSCHAFT's unique sound, melting of New Wave synths layered in catchy melodies, powerful clear-cut guitars and harsh screaming voices, always driving Electro and Metal worlds altogether to their darkest sides.
Releasing in 2013 their new album named "LES 12 VERTIGES", HERRSCHAFT is now about to break a five-year silence by digging once more in human's mind, now in a more introspective, raw and perverse manner. Produced by Zoé H. (The CNK, ALT, Skinsitive...) and visually conceptualized by Heinrich von B (The CNK), "LES 12 VERTIGES" is a 12-tracks magma of violent experiment, ecstasy, and perdition, oriented for Dance floors as well as hound pits.
Integrating a revised Live line-up with Manu DK (Eternal Majesty, Madonagun,…) and Denis MLBK (ALT, Dexy Corp, Ciguë) in the new roaster, and finally adding 10 Remix tracks made over last years by the electro-metal scene (including The CNK, Tamtrum, Dexy Corp, Temple Of Nemesys,…), HERRSCHAFT is now ready to sound louder than ever.